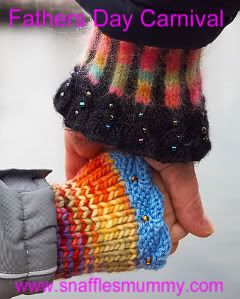 As Fathers Day will soon be upon us (20th June 2010 for those of you in the UK). I thought I would host a Fathers Day Carnival.
To be involved simply e-mail me the link to your post no later than Saturday the 19th June 2010 on
snafflesmummy1(at)googlemail(dot)com
All you have to do is get writing. Memories of Fathers days which have past, tributes to your own father or to the father of your children, gift recommendations, creative ideas for home made cards and gifts or ways of making the day special. Whatever your post feel free to share it.
Don't forget to pop by on Father Day to see what everyone else had to offer.
If you would like a badge to show you are participating then feel free to get the code which you will find over to the right of this post.
I cant wait to read what I am sure will be a touching collection of posts from you all.